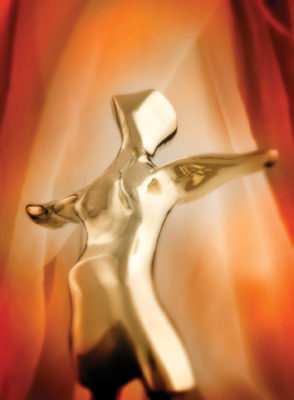 Leading Edge
Brooke Bauer
Brooke first stepped onto the stage at the age of 5 and hasn't looked back. She has been a youth performer with Drayton Entertainment for the last five years. Brooke loves the spotlight and she can also be seen singing at concerts, fundraisers, competitions, nursing homes, festivals and sporting events across the Region of Waterloo.
Vienna D'Amato Hall
Vienna, a singer-songwriter, organized and performed at four local charity events in 2015. She has sung at area festivals and at venues across Canada, the United States and Europe. At one event she collaborated with local painters to explore the creation process across mediums. Her album It's What The Dog Saw was released in 2015. 
Grace Leahy
Grace has won numerous honours at area music festivals. In 2015 she received first class honours with distinction for her Royal Conservatory of Music diploma for Grade 7 piano. She also studies violin, voice and dance. On stage, she returned to the Stratford Festival in 2015, playing Brigitta von Trapp in The Sound of Music.
Steven Restagno
A graduate of the Integrated Arts Program at Eastwood Collegiate, Steven is a University of Waterloo fine arts student and a member of the Art District Gallery in Kitchener. In 2015 he won the junior edition of The Brush Off competition and placed first in the Waterloo Region District School Board's Atrium Student Art Display.
Matt Weidinger
Matt is a passionate singer-songwriter known for his mature rock/soul vocals and his skill at playing of several musical instruments — his favourite being the Hammond B3 electric organ. He has released two EP recordings and has a busy schedule both locally and across Ontario, performing with his own band and with other headliners.
Alten Wilmot
Alten is an actor, singer and dancer who has performed at both the professional and community level, including local roles with Lost & Found Theatre and the Singer's Theatre. He manages the local youth ensemble Voices Over Time and teaches at Classical Keys piano studio. He will enrol in Sheridan College's musical theatre program this fall.
---
Literary
Scot Ferguson

Scot is a writer whose work has appeared in many newspapers and magazines, including the Cambridge Times, the Waterloo Region Record, Toronto Sun and Toronto Star. In 2006 he published The Cambridge Wartime Scrapbook. Since 2011 he has published The Cambridge Citizen, a printed monthly magazine that calls itself the alternative voice of Cambridge.

Janice Jo Lee

Janice is a poet, spoken-word artist, musician, educator and community organizer who has a degree in English from Wilfrid Laurier University. She runs the KW Poetry Slam and has toured Canada with her art. Her work has appeared in Ricepaper Magazine and Broken Pencil Magazine. She was the City of Kitchener's 2015 Artist in Residence.

Pamela Mulloy

Pamela is editor of The New Quarterly, an award-winning national literary magazine that is based in Waterloo. She is also creative director of the magazine's annual Wild Writers Literary Festival, which is presented in November at venues in Kitchener and Waterloo. Her debut novel, The Deserters, will be published in 2017 by Véhicule Press.

Richard Quesnel

Richard is a professional actor, director and playwright who has worked with the Stratford Festival, Drayton Entertainment and Theatre & Company. Since 2007 he has been a Lost & Found Theatre company member, appearing in numerous productions. He wrote and directed Charles Dickens Writes A Christmas Carol, staged by Lost & Found Theatre in 2015.
---
Mentor
Bethany Horst

Bethany has taught voice, piano and theory locally for 10 years. Her students have won numerous competitions and often find work with Mirvish Productions, Drayton Entertainment and the Stratford Festival. She teaches opera at Western University and adjudicates at events across Ontario. She also coaches musical theatre at Rockway Mennonite Collegiate and Eastwood Collegiate.

Rufus John

Rufus is a singer, entertainer and entrepreneur. He is also a child and youth worker and helps young people to focus on their strengths as a way to connect and engage. In 2015 he developed a Music Is My Weapon initiative to teach young people the basics of song writing, music arranging, audio engineering and performing.

Janis Price

Janis was a founding member and longtime teacher with the Integrated Arts Program at Eastwood Collegiate. She developed its dance instruction to focus on dance as a diverse art form and held key roles guiding student performance groups, including the Kinesis Dance Co. She teaches dancers and choreographers to be true to themselves and their intuition.

Monte Wright

Monte is a visual artist who for years has assisted other artists with encouragement and help getting their work displayed. He served a term as president of the K-W Society of Artists. In recent years he has been a volunteer art instructor at Hope Studio in Kitchener, a program sponsored by his Waterloo Mennonite Brethren church. 
---
Music
James Downham

James is a singer-songwriter. After winning "The Shot" vocal talent search in March 2015, his band was a finalist in the Breaking Bands competition at the 2015 Big Music Fest, and then a semi-finalist in Indie Week Canada. His debut solo EP was also released in 2015. James helps organize the Hohner Avenue Porch Party in Kitchener.

Bethany Horst

Bethany has sung with opera companies and orchestras in Canada, the United States, and Europe. A soprano, she has won the Lyndon Woodside Oratorio Solo Competition and received the prestigious Jacqueline Desmarais Foundation grant. In 2015 she sang locally with the Grand Philharmonic Choir and in a K-W Symphony opera-in-concert presentation of Die Fledermaus.

Olena Klyucharova and Andriy Tykhonov

Olena and Andriy are music instructors and performers who together and separately have delighted audiences of the Uptown Waterloo Jazz Festival, K-W Chamber Music Society, The Jazz Room and many more venues. The couple, both graduates of the Glier State Music College of Kiev, operate the Accent Piano Studio and KW School of Music and Art.

Kathryn Ladano

Kathryn is the artistic director of NUMUS, a Waterloo new music organization focused on contemporary sounds. She is also director of the Improvisation Concerts Ensemble at Wilfrid Laurier University and an improvisation instructor in the faculty of music. Also a professional bass clarinetist, Kathryn has toured Canada as a soloist and released two albums.

Trevor Wagler

Trevor is co-owner and director of Renaissance School of the Arts and conducts the Waterloo Concert Band and K-W Symphony Youth Concert Band. As a composer and arranger, he has produced more than 950 scores for performers around the world and for local groups, including KW Glee. He also teaches at Wilfrid Laurier University.
---
Open
Heather Franklin

Heather is a visual artist and also an accomplished instructor, curator, gallery technician and arts administrator. She has worked with the Waterloo Regional Arts Council, K-W Society of Artists, Cambridge Sculpture Garden and Mayors Celebration of the Arts in Cambridge. She is a member of the Riverside Print Group and executive director of Button Factory Arts in Waterloo.

Kitchener-Waterloo Art Gallery

The K-W Art Gallery is celebrating its 60th year in 2016. It is the largest public art gallery in Waterloo Region and focuses its efforts on presenting the best of contemporary culture through displays of regional, national and international art. Exhibits change about four times annually. Also offered are educational events, specialized workshops and outreach activities.

KW Musical Productions

Since 1948 KW Musical Productions has been giving local residents an opportunity to both experience and participate in high-quality musical theatre. It aspires to nurture creative talent on and off the stage and its productions offer a launching platform for aspiring artists. When possible, it makes its Kitchener rehearsal space available to other groups.

REAP – University of Waterloo Felt Lab

REAP (Research Entrepreneurs Accelerating Prosperity) is a UW research initiative that brings creative minds together in the FELT Lab, a "digital sandbox for serious play." In addition to providing space and access to technology, free of charge, to artists, students and industry experts, REAP sponsors various artistic ventures and provides support in coordinating collaborative events.
---
Performing Arts
Trevor Copp

Trevor is a theatre creator — an actor, playwright, director, movement consultant, advocate and teacher. He was a resident artist with MT Space and Theatre & Company before founding the Tottering Biped Theatre in 2009. He has acted or directed in every local IMPACT festival and will soon bring his one-man show Air to the Registry Theatre. 

Hep Cat Hoppers

The Hep Cat Hoppers is a group of Kitchener-Waterloo community members dedicated to bringing people together to share music and dance from the Golden Age of Swing. Members offer dance classes and host dance events, striving to create a safe and happy environment. The group's vision is to create a sustainable swing-era community.

Nada Humsi

Nada is a theatre performer, writer, director and mime instructor. Born in Syria, she came to Kitchener in 2008 and joined the MT Space theatre company. In 2013 she co-founded the Kitchener-Waterloo Arab Canadian Theatre and 2015 she wrote and then directed its production of My Name is Dakhel Faraj, about a refugee from Iraq. 

 
---
Textile, Fibre and Quilting Arts
Kate Carder-Thompson

Kate has been exhibiting her textile-based artwork locally since 2010. In 2015 her exhibit Lab Culture was displayed at Kitchener City Hall. It included a series of stitched experiments in which patterns from Western and Eastern culture were blended. Kate has often instructed at K-W Art Gallery workshops for sewing, embroidery and quilting.

Angela Grasse

Angela has worked with fibre for more than 20 years and exhibited her creations in many places, including the Homer Watson Gallery, St. Jacobs Quilt Festival, Kitchener Public Library and The Grand National Quilt Show. She belongs to the Grand Guild of Fibre Artists and comments about her art in a blog called Princess Bubbles Creates.

Erin Wilk

Erin  has a daily art project and blog called Robot a Day that sees her creating "robot" purses made with silk-screened industrial felt and vinyl. An award-winning knitter, she also teaches knitting, designs knitting patterns, and coordinates the KW Knitter's Guild Adjudicated Show. She was a founding member of the local Stitch 'n' Kitsch Craft Collective.
---
Visual Arts
Ellie Anglin

Ellie works in collage, sculpture and zine making. She has a degree in English from the University of Waterloo and has exhibited her work across Ontario. She has self-published 16 zines featuring artwork and writing — including The Golden Bat, a zine about Kitchener-Waterloo. She curates The Waterloser. a photo-blog of quirky local images.

Diana Erb

Diana has lived and worked in New Hamburg since receiving a degree in fine arts from Concordia University in 2011. She works with acrylics to produce colour-filled paintings inspired by landscapes, the sky and nature. She is also co-owner and visual art director of Sight & Sound Studios, which offers instruction in the musical and visual arts.

Soheila Esfahani

Soheila has a master of fine arts degree from Western University and a BA in fine arts from the University of Waterloo. A visual artist for more than a decade, her paintings and installations focus on the notion of cultural translation and processes involved in cultural transfer and transformation. She is also a longtime art educator.

Heather Kocsis

Heather is a visual artist who makes architectural wall sculptures with wood. She has a bachelor of fine arts degree from Queen's University. Her creations have been exhibited across North America — also at the Cambridge Centre for the Arts and Connect 2015 show in Kitchener. In 2014 she was artist in residence at the Accelerator Centre in Waterloo.

Amy Roger

Amy has a degree in fine arts from Syracuse University and completed a graduate program in museum studies. She has painted locally for 10 years. Her show Accidental Orbs was displayed at Kitchener City Hall in 2015 and she helped produced the 2015 exhibit, Fast Forward Waterloo Region. She has also curated art shows for local establishments.

Cathy Ross

Cathy is a graduate of the Nova Scotia College of Art and Design and best known for her beautiful still-life watercolour paintings. She has been a juror for exhibits presented at Button Factory Arts in Waterloo and has donated works of art to support fundraisers held by the K-W Art Gallery and Canadian Clay and Glass Gallery. 
---
Festival or Event
Cambridge Arts Festival

Now in its 21st year, the Cambridge Arts Festival offers free, interactive family fun —including a Kids Zone, street market and music stage. New and established local artists, musicians and performers can present their talents at no charge. Art meets technology in the Maker Lab, which features everything from 3D printers to robot battles.  

Cambridge Mayor's Celebration of the Arts

This one-day event got started in 2002 with only 200 attendees. Its popularity exploded when it moved to the new Cambridge City Hall. The festival is a showcase for juried works by local visual, literary and performance artists. In 2015 more than 5,000 visitors enjoyed the art and sampled tasty food prepared by local restaurants.

Grand River Film Festival

The Grand River Film Festival will mark its 10th year in October. It's a week-long event that brings bold, reflective and inspiring films — local, Canadian and international — to audiences at venues across Waterloo Region. The festival works throughout the year to support local filmmakers with its short-film competition and film industry workshops.

Mill-Race Festival of Traditional Folk Music

Begun in 1993, the Mill-Race Festival of Traditional Folk Music presents music and dance by local and internationally renowned performers on its main stage beside the Grand River in Cambridge and at other nearby venues. The free, three-day festival is the flagship event of the Mill-Race Folk Society and attracts 10,000 people annually.

 
---
New Festival or Event
FLASH Waterloo Region

FLASH started in 2015 and in January this year held its second exhibition — celebrating the art and science of photography and presenting contemporary work by top amateur and professional photographers. A volunteer effort, FLASH drew 500 visitors to both of its exhibitions. Organizers want to tap the potential in each of us to make a great image.