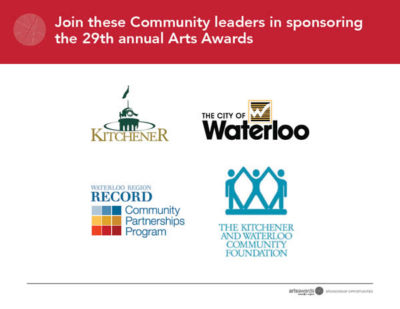 It's Worth Connecting with the Arts Because:
You can gain an emotional connection with your target audiences.
It's an opportunity to reach new demographics.
The population that enjoys the arts knows no bounds.
The Waterloo Region is an inviting and popular arts and culture center.
There is an undeniably strong correlation between arts and business vitality.
Investment in arts profits everyone, as it makes our cities more inviting, and our streets livelier, more animated, and safer.
The more people engage on the streets, the greater the business activity.
The greater the business activity, the more people need to invest in our community and businesses here.
Arts Awards Target Audience
Age – Historically, Arts Awards has been attracting ages 17–71; our events are suitable for and are attended by all ages.
Geographic Reach – Cities of Kitchener, Waterloo, Cambridge and surrounding townships of Wellesley, Woolwich, Wilmot and North Dumfries.
Profile – The events are attended by a diverse group of artists, art lovers, young professionals, their friends and families, corporate representatives and government officials.
Disposable Income – Our audience belongs to a range of professional and academic backgrounds, and all income strata: from wealthy arts patrons, to people who frequent galleries, concert halls, theatres, parks and restaurants, and have disposable income. In that sense, audiences to the arts are valuable prospects and customers to businesses in the community.
Benefits to Sponsors
We provide our sponsors with a very rich and dynamic branding platform by reaching the hearts and minds of their new and existing target audiences.
Partnership with Arts Awards provides intangible benefits such as: the associative value of being an arts and community supporter, networking opportunities, access to arts, artists, celebrities and dignitaries.
Sponsors are recognized in all Arts Awards Marketing Materials (depending on Sponsorship Level).
Sponsors can appear on stage at the Arts Awards Gala or the Recognition Reception.
Sponsors of the Arts Awards show their employees and others that they support the community.
Sponsorship Levels:
Feature Sponsor Package
Event Sponsor
Corporate Arts Supporter Award Sponsor
Arts Awards Sponsor (10 categories)
Leading Edge Award Sponsor Award Sponsor (4 awards)
Music Performance Sponsor
Recognition Reception Sponsor
Arts Awards Donors
For further information on how to be an Arts Awards Waterloo Region Sponsor, please contact:
Administrator, Joy E. Kramer
admin@artsawardswaterlooregion.ca